Napokon je na red došao post o Anastasia Beverly Hills Mario paleti, znam znam, obećala sam ga davnih dana i nikako da ga natipkam. Za one koji ne znaju, "uhvatila" me trudnoća i trudničko stanje te dane provodim tako da jedva gledam (u prijevodu – ne funkcioniram :D). Nadam se da će uskoro proći i taj beskrajan umor kao i vrlo, vrlo naporne mučnine.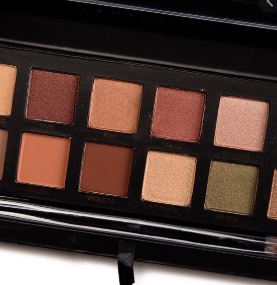 Idemo mi na paletu :). Na prvi pogled ova paleta djeluje hladnije, odnosno neutralnije naspram Modern Renaissance palete, o kojoj možete čitati ovdje. No, ona u biti nije toliko hladna koliko se čini već ima taj jedan zemljasti rang boja koji djeluje više neturalno/hladnije dok je Renesans paleta baš izričito topla i puna crvenih tonova te ta toplina više dolazi do izražaja.
Jedina hladnija nijansa u ovoj paleti je Claudia, tamno siva nijansa s plavim podtonom. Ostale su sve nijanse tople izuzev nijanse Lula, koja je neutralna prema toplom.
Apsolutno sve nijanse u paleti su savršene pigmentacije, a za swatchanje nisam koristila primer, nikada ga ne koristim, te sam doslovno prstom uzela malo sjenila iz palete i prebacila na ruku. Nisam primijetila da iti koja nijansa ima problem s teksturom te se nisu trusila kao ona iz Modern Renaissance palete, iako je kod nje taj fall-out zaista minimalan.
Paleta je manja od Renesans palete te ima i dva sjenila manje, ukupno ima 12 nijansi. Kompaktna je i idealna za putovanje, a napravljena je od kartonske ambalaže.
Ovu paletu bi idealnom učinilo to da ima jednu mat svijetlu nijansu, odnosno baznu nijansu. To joj baš fali i meni nije dovoljna da napravim kompletan look. Uvijek kod šminkanja krećem s tom baznom nijansom ili ju koristim na kraju kada "čistim" rubove ili ju pak volim staviti ispod obrve. Da ima tu nijansu bila bi savršena.
Dakle paleta ima 12 nijansi i to – Hollywood (srednje zlatna nijansa s perlastim shimmerom, toplog podtona), NYC (crvenkasto smećkasta nijansa s perlastim shimmerom, toplog podtona), Kim (srednje smeđa nijansa s narančastom primjesom te zlatnim shimmerom, topli podton), Muse (zagasita crveno smeđa nijansa, metalik odsjaj, topli podton), Marina (svijetla bakrena nijansa, metalik odsjaj i topli podton), Claudia (siva nijansa s plavim podtonom, sitan shimmer, hladan podton), Lula (sivo smeđa iliti taupe nijansa, mat finiš), Isabel (zagasitija narančasa nijansa, mat finiš), Violeta (tamnija crvenkasto smeđa nijansa, topli podton i mat finiš), 5h Ave (topla zlatna nijansa, metalik odsjaj), Bronx (tamnija maslinasta nijansa, zlatan shimmer i topli podton) i Paris (tamnija brončano smeđa nijansa, frost finiš).
Paleta je kupljena u Americi u Sephori te je koštala nekih 40ak dolara, mašem Petri ovim putem i još jednom se zahvaljujem što mi ju je uzela :). Paleta je bila Limited Edition te ju više nemaju na službenoj stranici, ali se da pronaći na Ebayu i Amazonu. Samo pazite se fejkova.
Jeste bacile oko na ovu paletu ili ju kupile?
Martina