Danas ću vam pokazati dvije nijanse Bourjois Color Edition 24h cream to powder sjenila. Ona nisu novitet, a na tržištu se nalaze još od 2013 godine, iako nisam sigurna kada su točno došla k nama. Međutim, sve do neki dan uopće ih nisam zamijetila u drogerijama.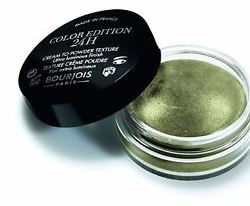 U mom obližnjem Kozmu, gdje sam ih i kupila, dostupne su samo tri nijanse. Sad, nisam sigurna jesu li samo tri nijanse uvezene kod nas ili taj moj Kozmo ima svega tri nijanse. Inače, postoji ukupno šest nijansi.
Nisam ih još istestirala kako spada, no teksturom su puno svilenkastija od Maybelline Color Tattoo sjenila, mekša te nisu toliko pigmentirana (ovo u biti ovisi od nijanse do nijanse, npr. ljubičasto Color Tatto sjenilo je lošije pigmentirano od ostalih).
Kremasta sjenila su pogodnija za suhe do normalne kapke te će na njima duže trajati nego na masnijim kapcima. No to ne znači da netko s masnim kapcima ne može nositi kremasta sjenila, samo mora malo prilagoditi aplikaciju – koristiti primer ispod te eventualno fiksirati kremasto sjenilo sa suhim sjenilom/puderom.
Nijanse koje sam odabrala su 03 Pétale de glace – zanimljiva shimmerasta taupe nijansa (ovisno o svjetlu pod kojem ga gledate ide od sive pa do roskasto smeđe) i 02 Or désir – shimmerasta brončano zlatna nijansa.
Sjenila su mi divna, a jedinu zamjerku imam naspram pakiranja – plastično je i nekako djeluje slabašno. Isto tako mi se ne sviđa kada skinete etiketu da biste otvorili sjenilo više nigdje na njemu ne piše o kojoj nijansi se radi.
Dobije se 5 grama sjenila, a koštaju oko 60ak kuna, mislim 58,99.
Jeste isprobali Bourjois kremasta sjenila?