A while ago I've received Mythic Oil Colour Glow Oil for review. This product is from their new product line called Mythic Oil and beside this oil it includes:
Mythic Oil Nourishing oil for all hair types
Mythic Oil rich oil
Mythic Oil reinforcing milk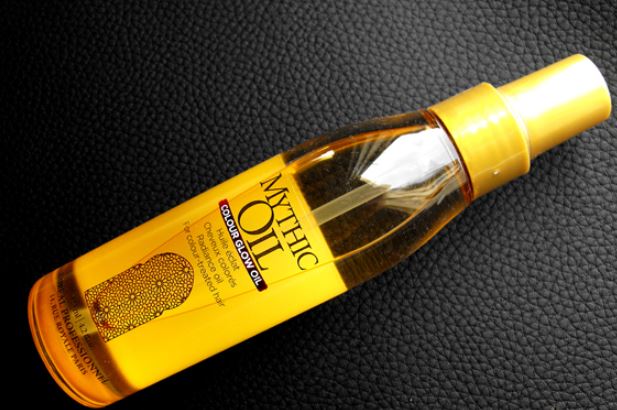 My hair care is, to be honest, the same for years and I use 4 products most of the time: shampoo, conditioner, hair foam, and hair spray. 😀 True, not really innovative or anything because, first, I'm lazy and second, I don't finde hair products to be so interesting as makeup for example.
Here's what L'Oreal is saying about this product:
Linseed Oil: used by painters in ancient Persia to enhance the shine of their masterpiece, this illuminating oil adds mirror-like reflection to color-treated hair.
Cranberry Oil: this nourishing oil filled with antioxidants helps protect haircolor from fading by shielding the strand from environmental aggressors like the sun.
UV Filters: protects hair from the harmful rays of the sun to keep haircolor looking vibrant and grow hair thick.
During my testing period I've seen that this product really makes a difference when it comes to radiance. Hair is shiny and yet not oily, though this product has an oily formula.
And that's what I was afraid of but it turned out it was only my fear of having oily hair. It can be used on wet or dry hair, however you like it. I use it ony dry hair since I always forget to use it on wet hair. It can also be used in combination with hair mask – just add two drops in it and apply it onto hair and leave it on for a few minutes. I haven't tried that yet, but I will. Anyway, after each use hair is really glowing (not that oily glow 😀 ). Besides that, the other thing that really impressed me is the gorgeous scent of this product! I must say that I'd LOVE if there was a food product with such smell or taste. I'd buy it ALL! 😀
This product contains 125 ml of product and it costs almost $40. I might seem a lot but this is a professional hair product so it's a decent price. Plus, you don't need a large amount of it for each use (you need 1-2 squeezes) so it will last for you, especially if you have shorter hair like I do.
Also, one thing that I discovered by accedent. I don't smoke and I really can't stand the smell of cigarettes so one day when I got home I tryed this oil to see if it would "kill" cigarette smell and well, it did do that! So, this is a HUGE plus from me!
Have you tried Mythic Oil products?