Iako najčešće nosim roza rumenila postoji par neutralnih rumenila koja su mi jako draga i bez kojih definitivno ne mogu, a jedno od njih je MAC rumenilo u nijani Mocha koje sam kupila prije otprilike pola godine. U početku se s ovim rumenilom nisam našla, mislim da je razlog tome njegova mrvicu tvrđa tekstura nego kod nekih drugih MAC nijansi koje imam (poput nijanse Blushbaby koja je dosta mekana i brzo se troši), ali nakon uzastopnog korištenja u posljednjih mjesec-dva mogu komotno reći da mi je ovo rumenilo tik iza Chanel Ultra Rose rumenila koje je uvjerljivo moje najkorištenije rumenilo. 🙂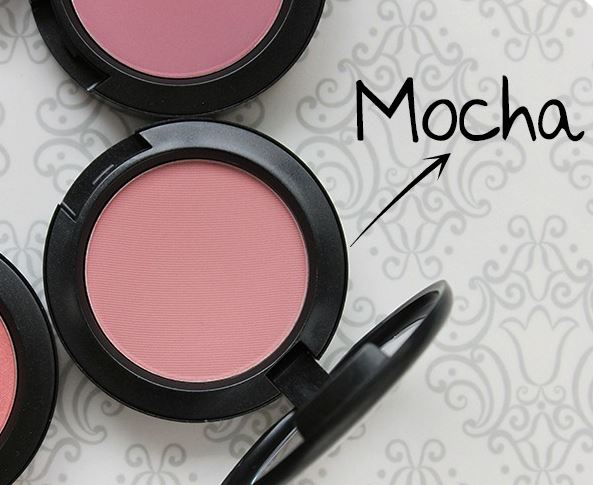 Kao što na gornjoj slici možete vidjeti, Mocha je u potpunosti mat nijansa, a zbog lagano tvrđe teksture po rumenilu prolazim malčice "agresivnije" s kistom nego što to inače radim kako bi kist bolje pokupio boju. Mislim da mi se dosad nijednom nije desilo da sam pretjerala s nanošenjem prilikom šminkanja 🙂 Rumenilo se lijepo i lagano blenda, a na mom licu postojan je nekih 6-8 sati.
Sviđa mi se što je ova nijansa neutralna i paše mi uz jarke ruževe koje volim nositi tako da upravo Mochu često kombiniram uz fuksijaste i crvene usne. Mislim da na slici ne dolazi do izražaja divota ovog rumenila, ali ako budete u prilici svakako ju isprobajte na sebi. Sviđa mi se što lijepo naglasi jagodice, izgleda prirodno i lagano osvježi lice. Na prvu mi se činilo da je ovo rumenilo slično Blushbaby nijansi, ali kad sam ih usporedila ispostavilo se da Blushbaby ima taj nekakav smećkasti ton zbog kojeg lako možete izgledati umorno, a mislim da to kod Moche nije slučaj. 🙂
Cijena ovog rumenila iznosi oko 180 kuna (24 eura), a količinski se dobije 4 grama proizvoda. Kupiti se može jedino u MAC dućanima ili na njihovim counterima (najbliži nama nalazi se u Grazu, ali uskoro se i kod nas otvara MAC pa eto, željno ga iščekujem!).
U nastavku posta pogledajte swatch (jače i laganije nanesen) te kako Mocha izgleda na mom licu!