Dear readers, Kia Ora or Welcome! This column was born out of my love for traveling, my "adopted" country New Zealand and the wish to become a part of Beauty & Mess blog community which I've been following since its early beginnings. I hope you'll like this column and that it will help bring this far, far away country a bit closer to you. So let's begin!
Oreti beach
Three years ago, in 2012, when I was just 18 I decided to swap my Croatian address with a New Zealand one so I could go to the university, travel and learn to see the world from different perspective. Now that I've graduated, I live and work here in a small town situated at the bottom of New Zealand or as the title says at the world's end.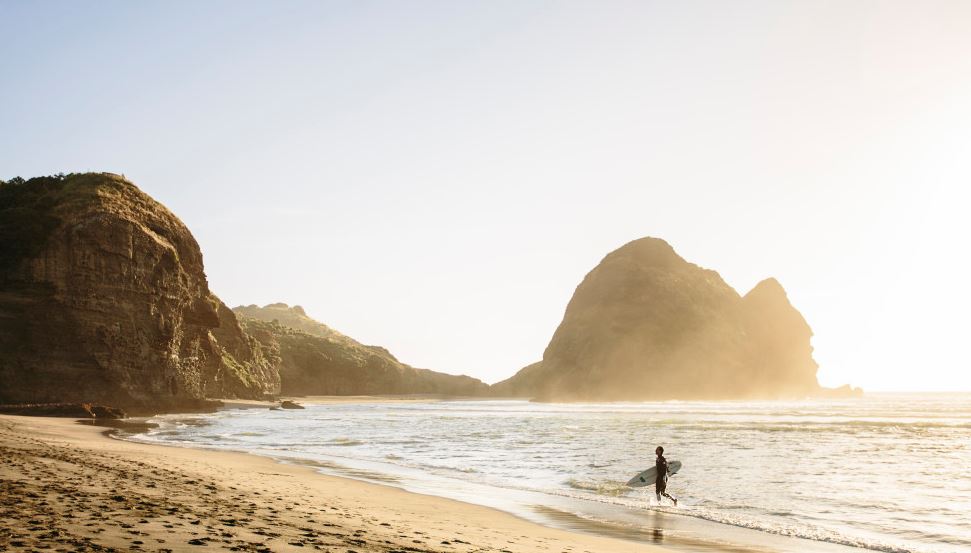 New Zealand is an island state positioned in the Pacific Ocean under Australia. New Zealand is a constitutional monarchy under the Queen Elizabeth II and general governor. The currency is New Zealand Dollar ($1 is worth approximately 4.7 HRK but can often go up to 5) and the minimum wage is $14.75 per hour. Official languages are English and Maori, although from what I've seen and experienced Maori is rarely, if ever, used in Government/administration establishments. Maori phrases are usually used for greetings and in some speeches aiming at wider public (i.e. politics, at graduation ceremonies) but it is quite rare to find someone who is not of Maori descent speaking fluent Maori. New Zealand government is trying really hard to preserve Maori language, I believe both for the sake of tradition and tourism considering that Maori, their traditions and customs attract millions of tourist to New Zealand each year.
Marae is the place where Maori and their friends meet for a variety of reasons but mostly just to spend some quality time together. Before you enter the main area of marae shoes come off, regardless of who you are.
New Zealand or "Aotearoa" in Maori (direct translation would be: "The Land of the Long White Cloud") consists of North and South Island. Capital is Wellington but Auckland is pretty much the centre of everything. All of the best (or known to Europeans) stores are in Auckland, as are the business, hospitality, tourism and medical centres. If you're fashionista and love searching for latest fashionable bits and pieces you'll have a really hard time in New Zealand. Brands known to us in Europe such as H&M, Zara, Mango and such are only starting their expansion into New Zealand market next year and for a while they will most likely be available at biggest Auckland malls. All clothes/footwear of decent quality (that doesn't fade or fall apart after you wear it 3 times) will cost you dearly. Cosmetics and make up, even from brands such as L'Oreal, Maybelline, and Max Factor which are quite affordable in Europe and can often be found on sale, you will pay at least twice as much than in Croatia. For example, a bottle of L'Oreal's foundation that costs about 90 HRK in Croatia will cost you around 180 HRK in New Zealand. Certain products from brands such as Max Factor or Rimmel can go over 200 HRK mark! I don't know if you do a lot of comparisons between the prices of drugstore and designer make up products, but 200 HRK (approximately $43 NZD) is where I draw the line even for M.A.C., which is a holy grail of professional make up, let alone for a drugstore brand. Drugstores such as DM, Muller, Bipa are non-existent in New Zealand and you can buy your stuff either in overpriced malls, supermarkets, random chain stores selling everything from needle to canoes or online. Choice and range of products in all of the outlets listed is usually very scarce and new collections reach them about 3 months later than the rest of the world. In the end I chose online shops as the place where I get my cosmetics from but honestly it's still cheaper to send my mom some money and a list of products I want (for the creation of those I always came to Beauty & Mess for advice by the way, hence the collaboration) and have her buy and send everything to me. She's happy, I'm happy ('cause she always puts lollies in the parcel too haha), the post office is happy with the money they get, so it's a win-win situation for everyone really!
*Fun Fact: in New Zealand there's more sheep than people and they more or less stroll all over the place. They're on the road, in town, next to the runway at the airport…
New Zealand is a "melting pot" or one big mixture of races, nationalities, religions, languages and cultures. New Zealand's population consists of descendants of Europeans, or New Zealand Europeans (Maori call them "paheka"), and Maori who according to the genealogical research most likely came from the Pacific islands. Today, Maori are a minority in New Zealand and from what I've witnessed they unfortunately don't have the same quality of life as New Zealanders of European descendant, even though the Government tries really hard to give them various benefits such as free education, professional development, grants, scholarships and similar. At the moment immigrants coming to New Zealand are usually Pacific islanders (Samoa, Tonga, Niue) and people from pretty much every Asian country you can think of. During the day, even in smaller South Island towns you can hear dozens of different languages, but if you listen closely you will hear that Chinese is being used almost as often as English.
*Queenstown is a small town and a famous tourist destination in South Island situated next to the Lake Wakatipu which was created approximately 15,000 years ago after the movement of a giant glacier. The city is itself rich is tourist offer but also acts as a gateway towards some of the New Zealand's most famous natural treasures such as Fiordland, Milford Sound, Doubtful Sound, Te Anau, Mount Cook, Wanaka…In Queenstown you can find overpriced jewellery and designer stores, luxury hotels and villas co-existing next to McDonalds, Starbucks and similar establishments aiming at us "normal" people (read: ones who can't blow a half a mil on a diamond ring).
Although when you look at the photos you could come to the conclusion that the climate of South Island is really dry and sunny don't be fooled, I only picked nice photos taken on sunny days. J Two weeks ago the highest temperature since 1970's was measured and it was barely 28C. Kiwis fainted from the heat; I fainted from being so happy I can finally wear shorts and sandals for the first time in 3 years. Here all four seasons can take place in one day. At 8 a.m. you'll need your winter jacket, by noon you'll be in your t-shirt and by 4 in the afternoon it's time to take your umbrella and put on your wellies because the rain starts pouring down in such quantities that you half expect to find Noah's Arc stranded in your back yard when you come back home. I only like the rain because after it stops falling I can snap some really cool photos (in my humble opinion).
*Rainbow over Invercargill
New Zealand is a multicultural country with a lot of intertwined stories, customs and cultures. Kiwis are usually very polite, tolerant and open minded towards other cultures, religions and customs. They appreciate kindness, honesty, education, hard work, motivation and the desire of individuals to use their talents to make not only their lives better but also the lives of the people living around them. Being creative, innovative, having an entrepreneurial spirit and being a good communicator are just some of the traits that most employers look for no matter for which industry/position you apply for. That makes for a reasonable request made possible by the fact that universities and educational establishments communicate with employers in order to find out what is necessary for students to learn. Secondary/tertiary educational programmes are divided into theoretical and practical segments so students would become a skilful workforce able to fill job vacancies. The Government provides various benefits for students such as student loans, "living" money and generally low fees in certain places. This of course applies only to New Zealand citizens and people with residency.
Unfortunately, even New Zealand has a lot of issues that can't be fixed overnight. Alcohol and "boozing" culture is a widespread issue which results in drunk driving and lives lost on the roads. In smaller towns (such as the one I live in) teenage pregnancy is also a serious issue. Lots of girls are usually single moms to one or more child before they're 18 and they just unable (sometimes just unwilling too) to make enough money to provide a quality existence for their children which means a worrying number of them lives in poverty. Rent is very expensive and unlike in Croatia it is paid weekly (for example, 3 bedroom house in Queenstown can reach $750 per week before the bills), heating with electricity/gas costs dearly, and healthy food like fruit/veggies/milk/dairy is so much more expensive than junk food. It's my personal opinion that for some families (especially single parent ones) eating healthy every week is almost impossible. That way of life and diet means that the kids get sick often and have some horrifying dental issues because some parents put Coca Cola in their kids bottles instead of formula because they claim they can't afford it (I've witnessed this). Some kids have such rotten teeth by the age of 3 that they have to go to the hospital to have them all taken out under full anaesthesia. After that they don't have teeth until their permanent ones come out which has as a consequence low self-esteem because they feel ashamed to talk, smile or make friends (if you want to know more about this topic just google "Nigel Latta sugar"). For me personally this is one of the issues that hurts the most and is devastating to witness.
Just so we wouldn't end this column on such a depressive note I've decided to tell you what New Zealanders like to do in their free time. Because New Zealand is full of natural beauties and all sorts of magical sites it's not surprising that Kiwis like to spend every free moment outside. Bungee jumping, parachuting, paragliding, white water rafting, mountaineering, pretty much anything that you can think of that makes your adrenalin levels shoot into the stratosphere (and that makes my mother say she'll break my neck if I ever do it) Kiwis offer and like to get involved in it.
*Paragliders over Queenstown
Kiwis like their sports and, as you might've guessed, rugby is the most popular one. Legendary All Blacks have been and have remained the unbeaten world champions. Rugby is closely followed by cricket with Black Caps achieving world class results of their own.
*Rugby Park Stadium, Invercargill
Kiwis work hard and play hard. It's not unusual to spend over $100 (about 500KN) on a single night out but if that night out is in another town that amount can double. They like to eat and drink out even though a smaller meal and a coffee can cost up to $20 (100KN), coffee on its own $4.50 (20KN), and booze from $5 (25KN) for shots, up to $15-$20 (70-95KN) for cocktails. Movie tickets cost around $15 (70HRK) per ticket, so twice as much than in Croatia.
They're also not immune to catching the travel bug and most of them visit the States and Europe on famous Contiki tours before they turn 25. Prices of airplane tickets from New Zealand to other parts of the world are usually from $1000 NZD (4,700 KN) up, and between towns in New Zealand from $200-$500. I think that is ridiculously expensive for domestic travel but with Air New Zealand still being the main airline one doesn't really have a lot of choice when in need. With that little observation we have reached the end of this column. Thank you for reading and I hope you'll have a Merry Christmas and a Happy New Year! Until the next time I leave you with some more pretty pictures!
*Roger Sutton Boardwalk, Pleasure Bay estuary
Riverton
Sandy Point beach
Fun Fact: Tuatara is an endemic reptile species specific for New Zealand. Henry (pictured) is the oldest known tuatara and has celebrated his 118th birthday this year! / up right – art in Queenstown
Queenstown
Silvereye, endemic bird species characteristic for New Zealand and Australia.
Just a little note, this column reflects my personal views, opinions and experiences so I was wondering what were yours if you've ever visited New Zealand? Do you agree/disagree with what you've read and have you found it interesting?
Until the next reading, Nina xx